Just when we think the gambling industry has reached its maximum in terms of variety and various ways money can be wagered for greater profit, some new trend emerges to prove us wrong. 2016 marked the peak of the so-called skin gambling, the newest craze in the line of virtual trends, providing yet another method to put our valuables at stake in pursuit of thrills and prizes. Similarly to a recent case of gamification, this increasingly popular category has no shortage of dedicated consumers, but its existence is nevertheless a disconcerting issue for the majority of industries leading regulators.
As of yet unregulated, wagering through the means of skins does not require a specialized domain or a licensed company to host it. The fact that users strike deals and trade among themselves in the fashion which can be rightfully called a gambling activity, without an intermediator aside from the virtual communication channels, presents a major problem in urgent need of solving.
From Video Gaming to Gambling
A relatively recent trend, skin gambling is not a phenomenon native to e-gambling, but rather originates in its equally popular close relative – the video gaming industry. To be more specific, the actual game that started it all was the famous Counter Strike: Global Offensive, a product of Valve Corporation that pits teams of players against each other.
The term "skin", as it was first used in CS, refers to the appearance of weapons used to battle and eliminate opponents, usually guns and knives. The look of the weapon does not affect whatsoever on its functionality, colors, and designs other than the standard black were coveted as prestigious accessories. Difficult to come by, skins can be earned through special achievements not everyone can accomplish. Those who manage to obtain these rare items, sometimes choose to offer them for sale, exchange or gamble via Steam, third party platforms, or other internet markets.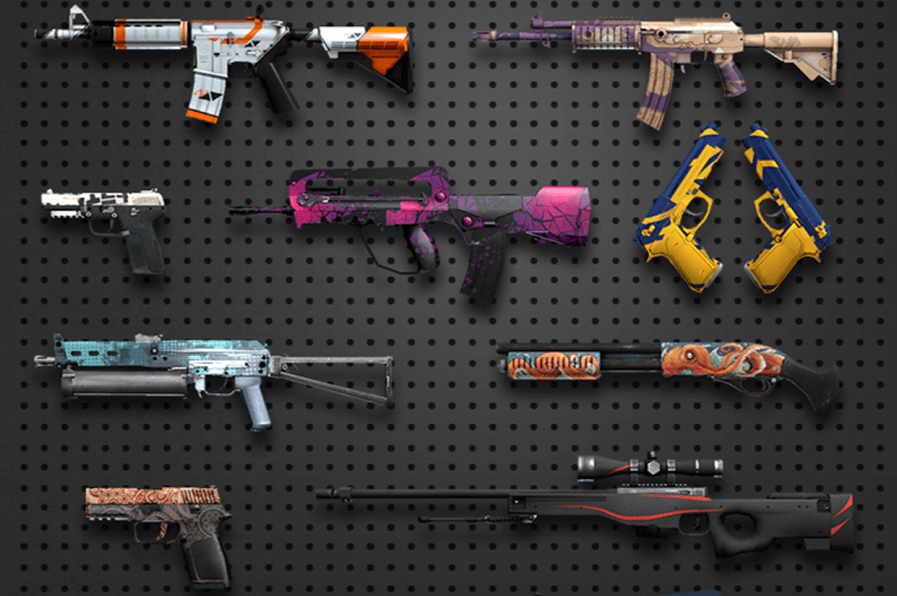 What Are Skins Worth?
Skins can also drop randomly from certain in-game chests, but these require purchasing special keys to unlock. Since skins are not guaranteed prizes, players are essentially buying a chance to win the item, a small chance for a high price. It comes down to paying real money for a pretend object that has no value in the real world, an activity which constitutes gambling in its basic form. It can be safely said, that skins, in this case, serve as virtual currency of sorts, just like chips are used for slot machines or table games.
As expected, a type of skin gambling has been embraced in the casino industry as well, where this newly discovered currency is being utilized for card games wagering, betting on sports, and even lottery. There are currently no laws pertaining to these particular events, and no licensing authority that has enacted any measures to regulate the booming market. This puts problem gamblers, video game addicts and similar risk groups, in a vulnerable position within a system devoid of consumer protection.
Should Skin Gambling be Regulated by Law?
In the last few years, billions of dollars have reportedly circulated within a growing skin gambling community. Although it remains a gray-area movement, its existence and consequences in the industry have been duly noted by authorities and official licensing bodies. A vast majority of regulators agrees that the trend requires a proper legal definition to include the category into already established laws.
The Isle of Man, the UK Gambling Control Commission, the Washington State Gambling Commission and the Norwegian Gaming Authority, all share a common understanding of skins as articles that do, in fact, have a real money value. Buying and selling in-game items means converting them into cash, which automatically lends them a virtual currency status.
Skins should be viewed and treated in the same manner as all other digital payment methods for gambling purposes. Any website or portal offering skin-based gambling is, for all intents and purposes, an online casino, and as such must acquire a license to operate within a regulated environment legally. For now, only the Norwegian and Maltese jurisdictions have taken certain steps to begin the process of merging skin gambling into their existing frameworks.